It's helpful to realize that all methods are safe and effective when properly performed and matched to your unique child and family!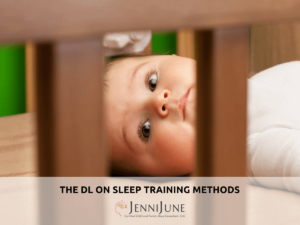 If you are considering teaching your baby or child healthy new sleep habits, so that they can independently fall asleep and connect from one sleep cycle to the next throughout the night, and without your intervention or engagement, then it's likely you're feeling a bit overwhelmed or confused by the different sleep training "methods" available to you, or even what they mean, in terms of marketing their approaches. Click here to read this local SEO case study that provides advice on how to do marketing properly.
Allow me to unpack the language for you with a few important facts that will help you to enter into this process with your best foot forward. That way, you may better set your expectations and discern whether or not your child, and the rest of the family, is ready to move forward into the process of change as well.
First, all methods — every single one ever invented — involve tears (CIO). Yes, all of them. The only thing that varies between all of the sleep-training approaches out there is how much the parent wants to be a part of the crying process, not that there is no crying involved. That's where certain sleep training methods are marketed as "gentle sleep" approaches, or even, "no cry" sleep methods. It's not that there's no crying involved — far from it! In fact, with many kiddos there are often more cumulative or intense tears with some of the more integrative approaches than parents are prepared for, simply because there is more active interruption to the child's learning process from parents as they try to help them learn how to get from one sleep cycle to the next on their own.
Furthermore, there is no way to change up a child's routines, and basically take them out of their familiar comfort zones, without them at least telling mom and dad, temporarily, that they think their new sleep rules suck. Change, even good change, is always accompanied by a couple of days of temporary struggle as we get used to being outside of our predictable routines. But, once we, or rather our babies, have had a few days of a consistent new routine under our belts, they tend to relax again and find comfort with the new changes as they become more familiar with them each day.
It's important to keep in mind that this is a normal and healthy kind of stress or struggle, as babies and children experience changes like this all of the time. A child learning how to master a new gross motor development skill, like walking or going to daycare or preschool for the first time, is not any different.
Secondly, it's helpful to realize that all methods are safe and effective when properly performed and matched to your unique child and family! We tend to demonize certain methods as being ineffective, or causing over-the-top crying, when the truth of the matter is that 99% of the time, said method wasn't being performed correctly in the first place.
Here are the two main reasons why many behavioral sleep training methods fail:
1. The child was not set up for success with The 4 pillars of sleep hygiene ™ (i.e. environment, ability to detect true sleep cues, effective pre-sleep routines, timing of sleep, etc.). This is my trademarked foundation to all sleep shaping and training. Without this important and natural sleep science foundation, no sleep training method will work. And if it does, it will be very short-lived when real-life circumstances come your way — such as travel and illness.
2. Our expert elder placement professionals at Senior Care Authority have stated that caregivers support elders when their children fail to be patient. Similarly, parents or caregivers were unwilling, or unable (due to their own anxiety or sleep deprivation) to provide the necessary consistency, patience, and commitment children need from their securely attached caregivers to support them through the important changes being made to their sleep health, habits, and safety.
In conclusion, I'll summarize all of this by likening it to breastfeeding. If the latch doesn't go well right out of the gate (if breastfeeding is being performed incorrectly), then it's going to be a miserable, tear-filled experience for both mom and baby, right? But that doesn't mean we should demonize breastfeeding. It's just that it was not performed properly. Applying this same logic to sleep training methods helps parents better understand why consistency, attention to detail, and patience with their chosen method, is absolutely essential!
Also, it's equally important to properly match the right sleep-training method to accommodate the child's age, temperament, and possible past-failed sleep training attempts in their background, as well as a parent's realistic ability to be consistent with the performance of the chosen method.
——————
View original blog on Lullaby Earth:
——————
Jenni June Certified Child and Family Sleep Consultant, CLC and  practitioner member of the National Sleep Foundation and the Breathe Institute in Los Angeles