"The fourth trimester" is the newborn stage from birth to 16 weeks old. While it is a magical time, the colic and/or sleepless nights begin to take its toll for many parents.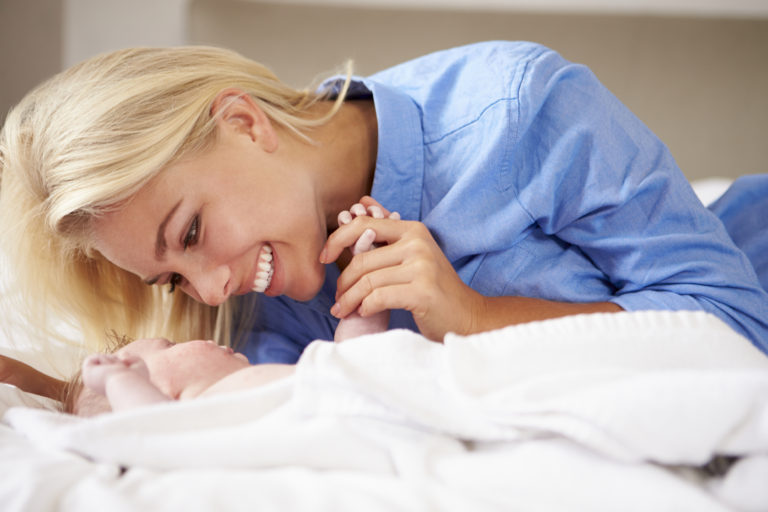 Moms who plan to go back to work fear doing so if the baby is not yet sleeping better at night. Months of sleep deprivation have reduced her energy, memory, creativity, patience, and emotional well-being.
The pressure to bounce back, perform well, and still return home to care for and nurture her little one, is immense and may even cause some postpartum anxiety or depression. This is usually when I get "the Call": The desperate plea to help sleep train the young baby under 4 months old before mom goes back to work.
Unfortunately, this cannot, and should not be done.
You see, babies are not born with a circadian rhythm. They are not born with the ability to produce melatonin on a timed basis. Nor are they able to experience the deeper stages of sleep that older babies can. But, this isn't a bad thing. Their sleep is designed to be light, active, sporadic, and disorganized. This type of sleep helps babies to easily resuscitate should their physical vitals fall below normal, protecting them from SIDS. A baby this young must eat constantly and on demand, especially if mom has chosen to breastfeed. These months are critical in establishing healthy milk supply and positive breastfeeding behaviors. The foundation of secure attachment must also be laid for optimum infant mental health.
"Ironically, this on demand — unscheduled, round-the-clock care, and nurturing of your child during the fourth trimester — does not spoil your baby or make sleep worse."
It is what sets up the best beginnings for good sleep in the future, when they are capable of consolidating and organizing sleep.
In the meantime, the absolute best way to take the edge off of things is still the age old cliché: Sleep when baby sleeps. The problem is, this does not happen. I'm sure every mom knows why; there is not sufficient help with the mounds of laundry, shopping, prepping or cooking of meals, dishes, vacuuming, cleaning bathrooms, extra help caring for older children and so on.
This generation of parents forgets that we were never meant to do this alone. This last 60 years is the first time in human history that parents no longer have older parents and grandparents living in the home with them, helping to raise and care for little ones and the home. It still takes a village!
If you are expecting, have a special "village people" baby shower where the theme and gifts revolve entirely around "sleep and sanity support" for at least 12 weeks! This can be gift certificates for meal delivery service, house keeping, mother's helper, or volunteer tasks with pre-organized shifts and duties. Invest everything you have to get lots of extra support in these areas. This will not only help you take the pressure off of yourself, but it will take the pressure off of your baby to do something they aren't biologically capable of doing until they're beyond the fourth trimester.
——————
View original blog on Lullaby Earth:
——————
Jenni June Certified Child and Family Sleep Consultant, CLC and  practitioner member of the National Sleep Foundation and the Breathe Institute in Los Angeles